Campbell River
Green Earth Carpet Cleaning
1720 Willis Road
Campbell River, BC V9W 3W1
Phone: 250-286-4755 - (Call or Text Message)
---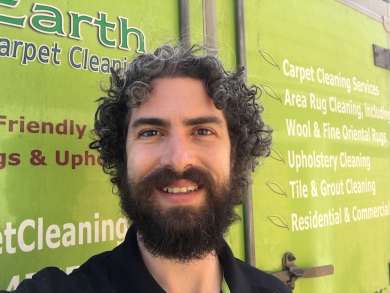 Mark Holley
Owner, Green Earth Carpet Cleaning, Campbell River, BC
Hi, I'm Mark, and I own and operate Green Earth Carpet Cleaning here in Campbell River. I live right here in Campbell River, and have been cleaning carpets in town since 2007. You've probably seen my big green truck driving around town. The sides of the truck have a beautiful, original painting by Ester Sample of Comox, which features a west coast panorama with orcas, an octupus, salmon and more. Not only is it the best looking carpet cleaning truck in town, it is also the most powerful carpet cleaning system in town.
How so, you ask? Well the answer is twofold; the hottest water and the most powerful vacuum extraction unit. Our Vortex "Big Truck" is renowned as the most powerful carpet cleaning truck-mount in the world! That means that your carpets come cleaner and dry much faster using our system than what you may have been used to with other cleaners before. Give me a call today to setup your free, no obligation, in-home estimate. And remember...we guarantee all of our work with our Money Back Guarantee, so you can try us out virtually risk free.
Thanks for visiting our website; I look forward to hearing from you!