The Green Earth Story
After pursuing and inspiring excellence in high-quality nature friendly cleaning for almost two decades, we decided its time to tell our story - enjoy!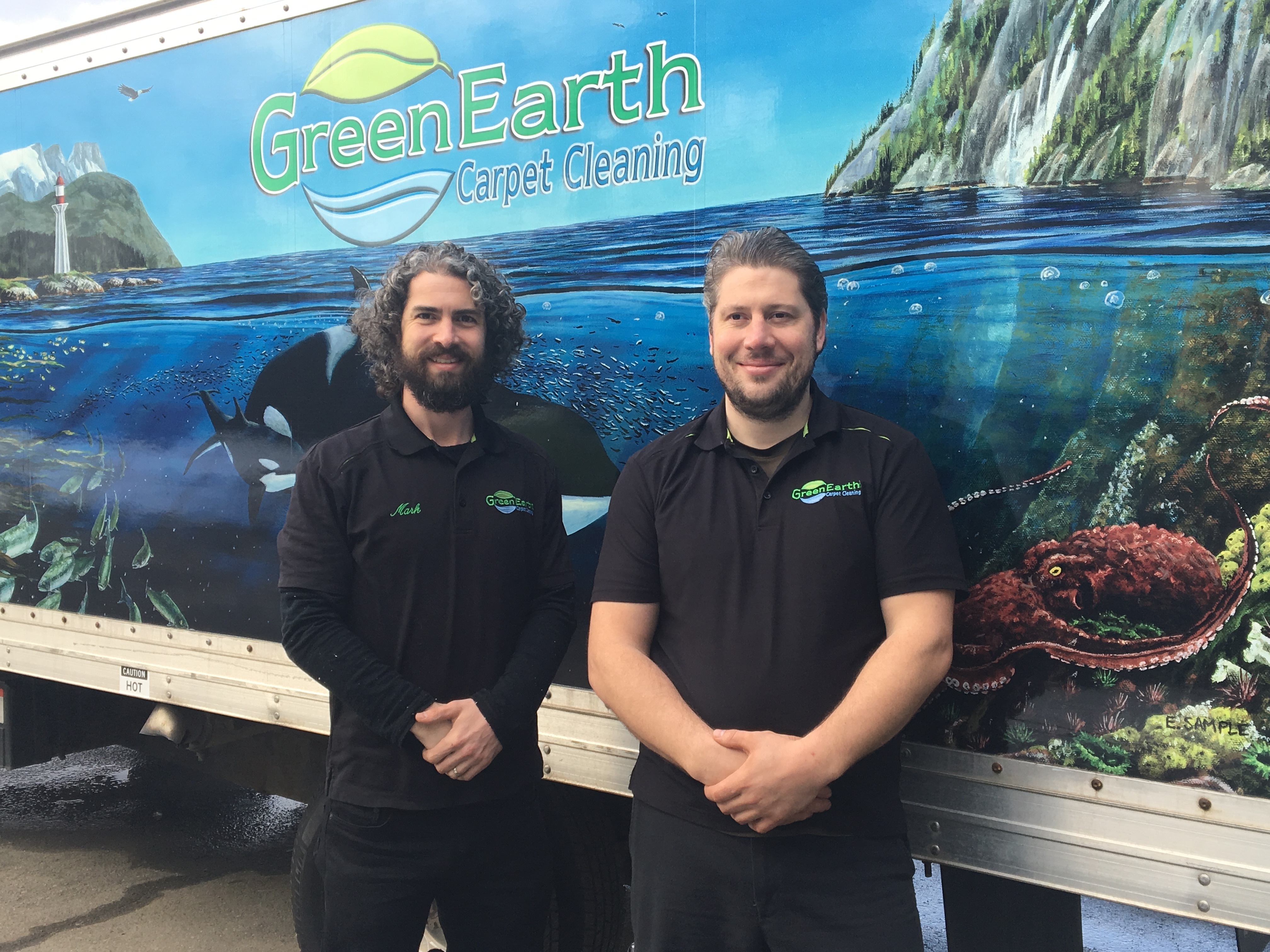 The Genesis of Green

Standing in the rich soil of the family's organic farm like a pioneer discovering the wealth of a new world, Cliff declared "The world has never seen a carrot like this before!" His young sons, Nathan and Mark, watched on as their father extracted the fruit of his latest agricultural experiment. Nathan can recall to this day the impression left in his childhood eyes of carrots that seemed bigger than baguettes and of the deepest orange, bordering on the colour red! "You just can't find that sort of thing in the store these days," he says. "Dad grew all kinds of stuff on that farm: carrots, potatoes, rye, wheat, spelt. He was always in pursuit of healthier food and better methods."
Cliff presided over the organic 100-acre family farm in southern Ontario as part farmer and part mad-scientist. Back in the 1980s long before organic farming was in vogue and there was real money to be made, he was obsessed with finding better ways to grow healthier crops and animals without the interference of the standard chemical enhancers in the industry. "The stories of experiments dad tried are endless," Mark recalls. "He was a chronic learner and endlessly curious about everything. He grew his own special grains for the animals and even tried his hand at worm farming on the side! He was convinced that there was always a way to make or do something better." On the farm that always meant healthier food, larger yields, and more eco- friendly. "Far from being intimidated by risk, dad relished the learning involved with challenging the status quo. At heart, I suppose you'd have to say he is something akin to the fusion of a health-conscious activist, an environmentalist, and an innovative agriculturalist!"
What does an upbringing on an organic farm with an eccentric father have to do with two young men founding a green carpet cleaning company years later? It turns out, everything. Back in the early 2000s, years after the Holley family moved out west and settled on Vancouver Island, when the Holley brothers jumped on a business opportunity to purchase a carpet cleaning company, they were in for a big shock. A few months into their promising new career they came to the alarming realization that chemical cleaners were the standard industry-wide and that there were no established options for green cleaning. They quickly found themselves on the frontier of an industry that was desperately in need of change. Mark recalls, "Within 3 months I had reached a crisis point. I thought to myself, if I keep doing this work with these toxic chemicals for the next 30 years I will seriously compromise my own health, not to mention the health of households that I service. Something has to change!"

It turns out that the example set by their father and the values instilled in them on the family farm would transform this career dilemma into the needed catalyst for Nathan and Mark to play a role in revolutionizing the way carpet cleaning is done.
A Green Revolution
Like their father, the brothers have always questioned everything and have never been inclined to settle for the status quo by default. With this mindset, they quickly became critical of not only the chemical products normalized in the cleaning industry but also the cleaning techniques and tools. They began to research in earnest, including attending training and industry events as well as taking online courses. This was before the trend of "green cleaning" had gained any serious traction in the commercial cleaning world, so finding products that were truly green and actually worked was no easy task. The brothers recall trying dozens of products that would go on to fail their green yet clean standard. This pursuit of a green process that could produce a result at least as clean as the standard-issue chemicals focused their energy for a full year. "Green and Clean" became an obsession.
In the early stages of product testing, they would often experiment with green chemistry in empty units, allowing them to return the next day to evaluate the finished product. Another valuable asset during this season of prototyping was a small minority of environmentally conscious homeowners, mostly hippies living on the islands in the Georgia Strait. As Mark says, "These folks were amazing. They were still pleased when a result sometimes might appear less clean than the chemical alternative as long as it was 100% green!" This demographic proved to be a great opportunity to test out new technology and refine the process for better and better results.
In typically understated fashion, Mark reflects, "After a full year of teasing out the green aspect of cleaning, we finally stumbled across a green product that didn't suck!" Contrary to Mark's tendency to play down their success, the reality of what Green Earth had achieved in that year is hardly able to be exaggerated. By 2009 they had implemented a green cleaning process that was not only 100% healthy, but also cleans even cleaner than the toxic alternatives. Mission accomplished, right?
Crazy Joe
During this same period of time, the brothers wondered if there were others out there in the industry who were as committed as they were to green cleaning and tired of using archaic tools that took a huge toll on the body. One such person turned out to be their main supplier in Seattle, "Crazy Joe." "That's his name!" claims Nathan. "Everyone in the industry knows him by that name." Crazy Joe had long before made a name for himself as a tool and product supplier for carpet cleaners, but most people in the industry lack an appreciation for what Joe is most passionate about. His mission is to push the boundaries of technology in order to improve the fine science of carpet cleaning, and he will stop at nothing to test out his hypotheses, even if it means inventing and patenting new products to that end.
While most others in the industry dismissed Crazy Joe as an ornery quack peddling trinkets, Nathan and Mark were enthused to find better cleaning wands, hoses, clamps, and all kinds of other supplies with his help. The brothers attribute much of their successful innovation to Joe's help. "Joe is fundamentally about inventing products to better the industry, and he was looking for techs and disciples to prove his concepts and show that his inventions really worked," says Nathan. "Our mutual appreciation resulted in a great sense of teamwork."
Contrary to the rest of the industry, Crazy Joe was convinced that improving water extraction from carpet was possible by increasing vacuum flow. As Nathan says, "It's hard to believe that such a simple concept would even be debatable, but the fact is that most people were either truly convinced it wasn't possible or they just didn't care." Joe went after this challenge as if it were a moral imperative. He designed, developed, and patented larger hoses with special airflow properties and ultimately triumphed with new cutting-edge technology. Nathan continues, "This is one of those stories that contributed to his name, 'Crazy Joe'! And we were one of the few people that could get along with him because we appreciated what he was doing. At the same time, Joe loved us because we were putting his technology to work in the real world and proving his concepts for the rest of the industry to see. It was a really big win/win."
The Revolution Continues
The primary motivation for Nathan and Mark to try out Crazy Joe's technology was their own mission to achieve a 100% green cleaning process. As Nathan says, "With Joe's method we finally saw how we could go completely green!" They would increase the steam/water washing process because now they could match Joe's tools with their powerful trucks and extract the increased water and dirt way beyond what was previously thought possible. "The result has blown us away," admits Nathan. "There really is no one else around with this ability. And the fact that this allows us to avoid using harsh chemicals has made the effort completely worth it."
The success achieved by the brothers resulted in catapulting them into a place of real credibility and authority in the industry. They now moderate an online forum for carpet cleaners across North America and are able to pass on their expertise to others. As Mark says, "A big part of our goal is to educate and inspire others to embrace the magic of green cleaning. That way everyone wins."
Unsurprisingly, you don't get the impression from the brothers that they feel like they have arrived. By illustration, a great passion of theirs is promoting the washing and reuse of area rugs in order to decrease the number that end up in the landfill. They equipped a shop in town with a special multi-stage process to essentially restore rugs like new. Many of these are premium rugs worth thousands of dollars each, but the majority are cheap synthetics bought online or at box stores. "It feels like an uphill battle somedays because the cost to put a synthetic rug through our wash process is close to replacing it with a new one in some cases," says Nathan. "While many don't see the value in this, more and more people do, and that small win is worth something."
The imperative to always find ways to improve on their "clean and green" ethic runs deep. When asked about current ideas or projects they are working on, they enthusiastically talk about low moisture cleaning methods they have been experimenting with. They are soon to announce a completely green low moisture option for homes that avoids the harmful microplastics in the current industry approach. "The new technology is truly incredible," says Mark. "This will allow us to keep cleaning green and healthy, but now we can do so in an even more environmentally responsible way. It's the best of both worlds."